2020 Camp Card Timeline
| | |
| --- | --- |
| January 31 | Pre-Order Deadline for Camp Cards online |
| February 11 | Camp Card Kickoff West - CAP (Earn $.50 Bonus Commission!) |
| February 18 | Camp Card Kickoff East - Commerce City (Earn $.50 Bonus Commission!) |
| February 20 | Camp Card Sale Begins |
| May 6 | Begin wrapping up sales and settling your unit's balance in Customer Service. |
| May 29 | Last day for units to turn in money, unsold Cards, and prize sheets |
| June 12 | Announcement of Top Sellers for Grand Prize |
2020 Camp Card Kickoff Event Links
How To Register for Camp After the Sale
Please make sure you have turned in your Prize Form first.
Then, to make sure you have the right experience and speedy service, please contact one of the following people for customized assistance:
For Day Camp & STEM Camp registration, contact JoLynne Conrad at 720-266-2143.
For any other Denver Area Council Camp, contact Mary Ann Romero at 720-266-2111
End of Sale Process
You can turn in money and unsold cards to one of three places: Customer Service in Hamilton Scout Headquarters, May Roundtable or contact your District Staff Advisor (see below).
Bring the money you earned, unsold cards, and prize forms.
May 29th is the last day to turn in everything at Hamilton Scout Headquarters.
Please Note: Customer Service is open 8:00 am to 4:30 pm, Monday through Friday, May 6th to May 29th.
Appointments with District Staff Advisor:
***Unit will lose $1 commission if unit fails to reconcile unit account by May 29th.***
Remember, units keep their commission on the front end. 100% of unsold cards must be collected and turned in with payment. Units are responsible for payment of sold cards and any unsold cards not returned.
2019 Youth Prizes
---
Camp Card Display Boards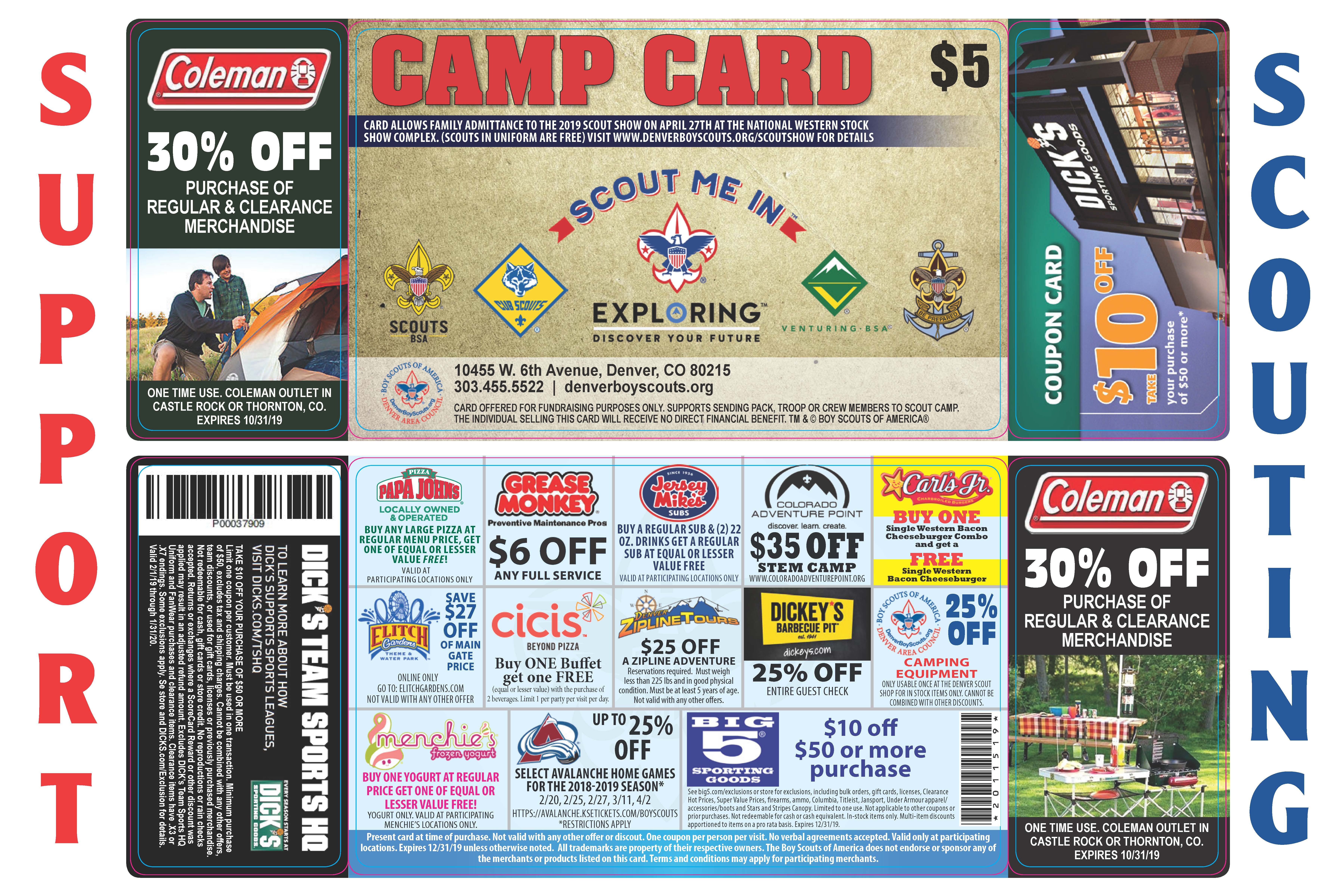 Display boards are a great way for your potential customers to see the coupons and fine print on the Camp Card. Order one today from the Denver Area Council and skip the trip to the printers by picking yours up at Kickoff or March Roundtable!
Display boards at $35 each. Dimensions: 36" x 24" with a 3/16" foam core.
How the Camp Card Sale Works
The Camp Card is, in essence, a way for Scouts to fund their way to camp programs.
Each Camp Card sells for only $5.00 to the general public and has multiple food, entertainment, and service coupons that the customer can use until the end of the year.
When a unit sells Camp Cards, that unit can use the commission earned to send Scouts to camp or save the commission to support the unit's needs.
Your unit can earn up to $2.50 in commission per Camp Card sold.
How to Earn Commission
Your unit can earn commission in three ways:
Attend the East or West Kickoff to earn $0.50 per Camp Card sold.
Host a unit booth at the 2019 Scout Show for $1.00 per Camp Card sold.
Settle your unit account and return all unsold cards for $1.00 per Camp Card sold.
The maximum commission your unit can earn is $2.50 per Camp Card sold, or 50% commission.
Camp Card Forms and Resources
2020 Camp Card Image (coming soon) - To use for your unit's marketing needs
2019 Camp Card Promo - For promoting the Camp Card sale
Prize Form - Due May 29th